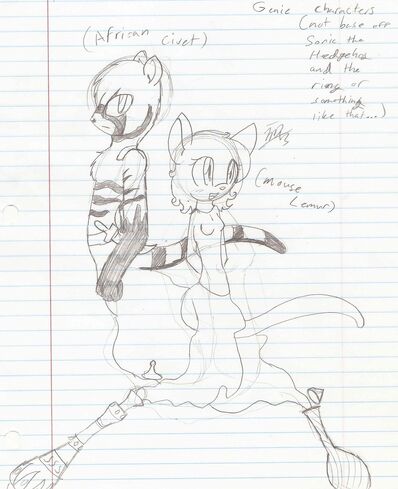 (will get a picture of herself)
Ashely's Bio
Edit
Name: Ashely Lavander Iris
Age: Died at 16 in a murder scene. She is truly 132,786,909 years old.
Species(animal): Mouse Lemur
Species(Mythical creature): A normal genie
Weapon: None
Attic: She normally wears pink gowns and even a wedding dress(cause she was to be wed off before the murder) Which sometimes freak those she is "force" to obey.
Personality: Cheerful and out going, the murder case that she had suffer from doesn't even seem to affect.
Backstory: Ashely's was a daughter of a poor, hard-working merchant family in the forest of Sican. She lived in a village that hold innocents that were thrown out by their kingdoms; rarely was there any murderers... Ashely was to marry a rich nobleman who believed she was the most perfectly being he has seen. However, that night her house was broken in to while she was cleaning. Being the first person spotted, she was killed by the murderer and before she knew it. She was in a rich bedroom of silks that were pink and purple. Wearing her wedding dress that had been picked out by her 'would have been' husband... If she didn't die and all.
Notes of Ashely
Edit
Ashely is just a normal, cheerful Genie.
Masters she had to serve
Edit
Theme songs
Edit
Relationships
Edit
Tiage- Ashely met Tiage when their bottles were together, which made her have a friend to talk to since it would have been lonely without Tiage.
(will find the picture of her bottle later)
Pictures of Ashely
Edit
Ad blocker interference detected!
Wikia is a free-to-use site that makes money from advertising. We have a modified experience for viewers using ad blockers

Wikia is not accessible if you've made further modifications. Remove the custom ad blocker rule(s) and the page will load as expected.