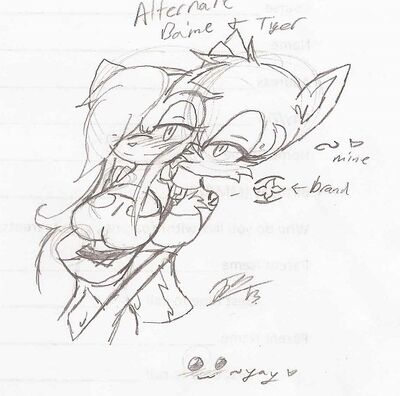 "My poison is deadly, but my bite is more deadly~" -Black widow, when threatening someone
Basic Bio
Edit
Name: Black Widow
Real Name: Vixen Widow
Age: 19 ( truly 1,634)
Species: Hedgehog/Were-Black Widow
Weapon: Whip [Magical]
Crossbow (Poison bolts)
Forms: Were-Black Widow
Personality: Can be easily reasonable, but she has to be very smart as a Black widow.
Born: Medieval time
Place born in: Underground of mobius's main island in the city of Xesan with the Spider clan.
Friends:
Wolf Spider (Dead) - Wolf spider of a male hedgehog who respected Black widow and was neutral. He died because he wouldn't help the Slavers get rid of her.
Iruna - She helps Iruna with understanding emotions, but likes Iruna and her shadow.
Lover: Ester, secret-Xenia
Likes: Teasing Ester, Loving Ester, her friend Wolf spider, caring for her friends.
Dislike: Slavers (Mainly)
Black Widow's Were-Spider form
Edit
(working on the rest)
Ad blocker interference detected!
Wikia is a free-to-use site that makes money from advertising. We have a modified experience for viewers using ad blockers

Wikia is not accessible if you've made further modifications. Remove the custom ad blocker rule(s) and the page will load as expected.