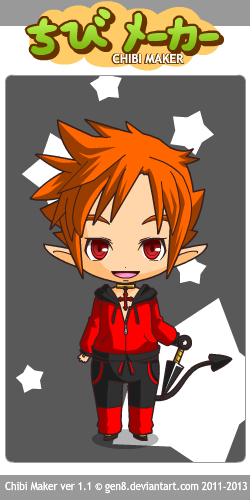 Basic Info
Edit
Full Name: Joey Slick
Species: Humanoid-Demon
Age: ???
Tittle:???
Mv: 10
Counter: 1
Weakness: ???
Evility-??
Hidden Skill: ??
In love with:Faven The Demon
Note: Based on a 600 point system
HP 100%      Fist E
SP 50%    Swords E
ATK 1%       Spear E
DEF 80%      Bow E
INT 1%       Gun S
RES 100%     Axe E
HIT 150%     Staff E
SPD 120%
Equipment
Edit
-Siegfried-(Gun)                           DEF+100                               HIT+750
-Providence-(Glasses)                                  INT+250                 HIT+800
-Infernal Cape-(Armor)                 DEF+550                SPD+150 HIT+150
-Star Orb-(Orb)                 SP+80                                                              RES+80
Skills set
Edit
Note: Gun Skills comes from Disgaea 2
Personal Skills
Star Cannon 10 SP: Places a Star Cannon on the field
Notes:
The level of the Star Cannon is 1 + half (1/2) of the Joey's level + Skill level of Star Cannon
The human player has 10 seconds from when the Star Cannon is played to shoot as much as possible on any targets.
After the 10 seconds, the Dark Cannon will auto-lock on to the closest enemy and will fire 5 shots between the player's turn and the enemies' turn.
At all times, the Star Cannon's shots will be fired in a straight line to the target, but will not pass through walls and the like. This is a good way to avoid shots from the Dark Cannon, but can also be annoying if an enemy is hiding behind a wall in the same way.
When the Star Cannon's shots hit, it causes explosive damage, which means any other characters that are nearby the target are also hit.
These explosive shots will cause Prinnies to explode as if they were thrown.
The Star Cannon's shots will always do at least 1 damage to any target.
The Star Cannon has an ammo limit of 999 bullets.
Slick Hand 1 SP: Able to steel without a stealing hand
Magical Skills
Espoir 10 SP: Cures Ailments
Gun Skills
LVL: 1 Tri-Burst
LVL: 3 Gaia Blast
LVL: 6 Proximal Shot
LVL: 10 Shooting Stars
LVL: 15 Totenkreuz
LVL: 21 Inferno
Relation info
Edit
Serve:Faven The Demon
Friends:
Enemies: